Hi, friends! Hope you all had a wonderful Christmas and are looking forward to great things in the New Year.
Today, I am linking up with Amanda at
The Lady Okie
and her friend
Beka
for a Dear 2013 Linkup post!
I loved
Amanda's post
, so I am going to use her awesome questions in mine too. So, here they are, with a few random pictures interspersed, because what good is a blog post without pictures?!
I am late with this linkup, as always. But I hope you still enjoy!
13 Things You Should Ask Yourself
1. What am I most proud of this year?
I think the one thing I am most proud of this year is how far we have come with our relationship with my husband's family. We were able to
attend his sister's wedding
in September, which is a HUGE milestone considering the history there. God is so good and so faithful.
2. How can I become a better ____________?
Wife. This coming year, I want to be more intentional about treating my husband with kindness, respect, and love. Of all the women in the world, God chose me as the perfect fit for him. He deserves my best.
3. Where do I need to allow myself grace?
Oh, wow. Everywhere! I am always hard on myself. In my opinion, there is a fine line between allowing grace and justifying your bad decisions. In 2014, I want to give my all and do my best in everything I attempt, but also find that balance where I allow some grace when I fall short. After all, God extends me grace every.single.day. I should do the same for myself.
4. Am I passionate about my career?
Absolutely! My job drives me bonkers some days, but I love what I do. I couldn't ask for anything more. I truly enjoy the career path that God has laid out for me.
5. What did my finances look like?
Overall, not bad. We were able to save enough to pay cash for our vacation to the Smoky Mountains and for Christmas. There were some tight months, but God blessed every time and saw us through.
6. How did I spend my free time?
On social media. Ha! Seriously, though, I spent wayyyy too much time online in 2013. I definitely want to scale back in this upcoming year and be more present with my hubs and family. I also spent a lot of time reading and trying new recipes.
7. What projects have I completed?
This is a tough one, because I didn't have any "projects" in the works, per se. I filled up my china cabinet that Hubby gave me last Christmas with loads of vintage Pyrex dishes. And I added tremendous amounts of albums to my record collection. Do those count as a projects? (Just kidding! Sort of...)
8. In what ways can I restructure my time?
See #6. I will have tons more available time if I spend less on Facebook, Twitter and Instagram. I also want to spend more time in the Word in the coming year.
9. When have I felt the most alive?
It is hard for me to pick one particular time on this one. I would have to say during church, worshiping with fellow believers and letting the Spirit move. That's when I feel the most alive.
10. How can I improve my relationships?
The top thing I need to do is pray for those relationships more often. Anything nurtured with prayer has a much greater success rate. Aside from that, I would like to call and write to people more often. I want to focus on improving my attitude, because too often, I fail at extending grace to my friends and family.
11. What lessons have I learned in 2013?
Things don't always turn out the way I planned, but God has it under control.
Turning over your worries to God is such a relief and comfort, when you actually do it and mean it.
12. What old habits would I like to release?
Speaking before I think things through.
Being less judgmental and more compassionate.
13. What new habits would I like to cultivate?
See #8. I want to study and pray more.
Daily exercise and healthier food selection.
Have a blessed New Year's Day celebration!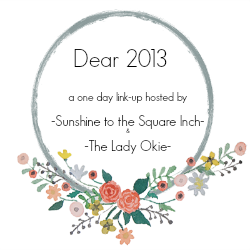 Much love,